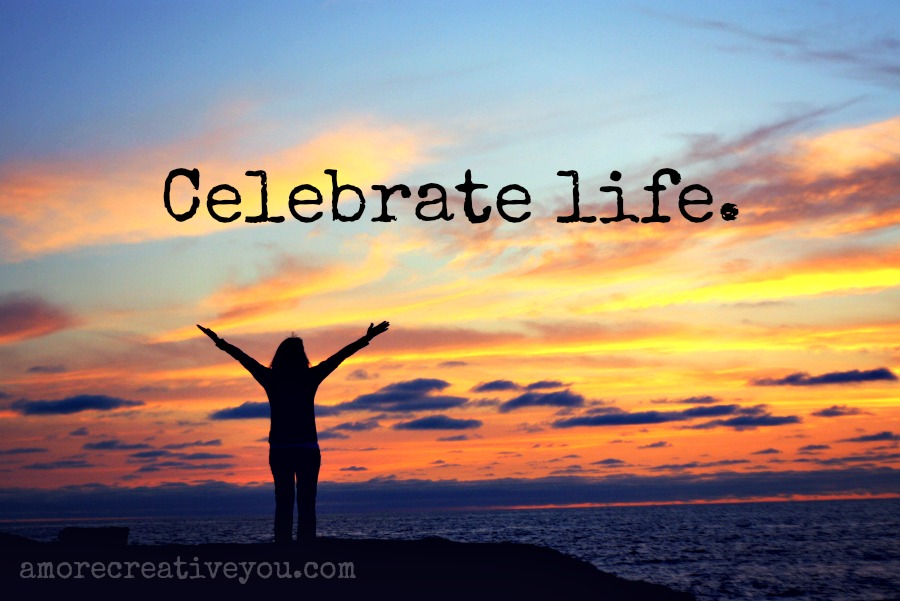 What can you celebrate today? Do you really want wait for your next birthday, Christmas or your best friend's wedding to celebrate? What about the progress you've made within the last week? Or let's look back at 2014, what did you learn then? How have you grown?
Today is the day to celebrate life. It's the only day we really have. The present. A gift.
Why am I talking about celebration today? 
Because I believe many of us are busy and working so hard on our goals and dreams that we miss the simple joy of life. 
Last year I started a "Count the Good" journal to remind myself of the positive things in my life. Because when life gets hard and the news remains negative, I tend to forget the good and darkness settles in. So I must search for anything good worth counting.
1. A sweet text from a friend
2. my dorky Golden retriever who makes me laugh
3. the beauty of winter even when it's 20 degrees
4. a warm cup of coffee
5. a cozy fireplace
6. bills paid
7. dinner made
8. clean sheets
9. music to lift my spirits
10. books
This process helps refocus my vision, my hearing, and my mind. It requires my full attention. In order to capture things for my journal, I have to be all in, all day.
I can't get stuck wandering around in my past.
I can't get stuck worrying about my tomorrow.
I can't be too focused on my goals, working, working, working.
I have to be present. Here. Right now. Looking. Listening. Breathing. Being.
Because life is worth celebrating. Don't wait another moment. Your life is worth living right now.
For me, counting the good makes all the difference.
So I hope you're making your list and checking it twice.