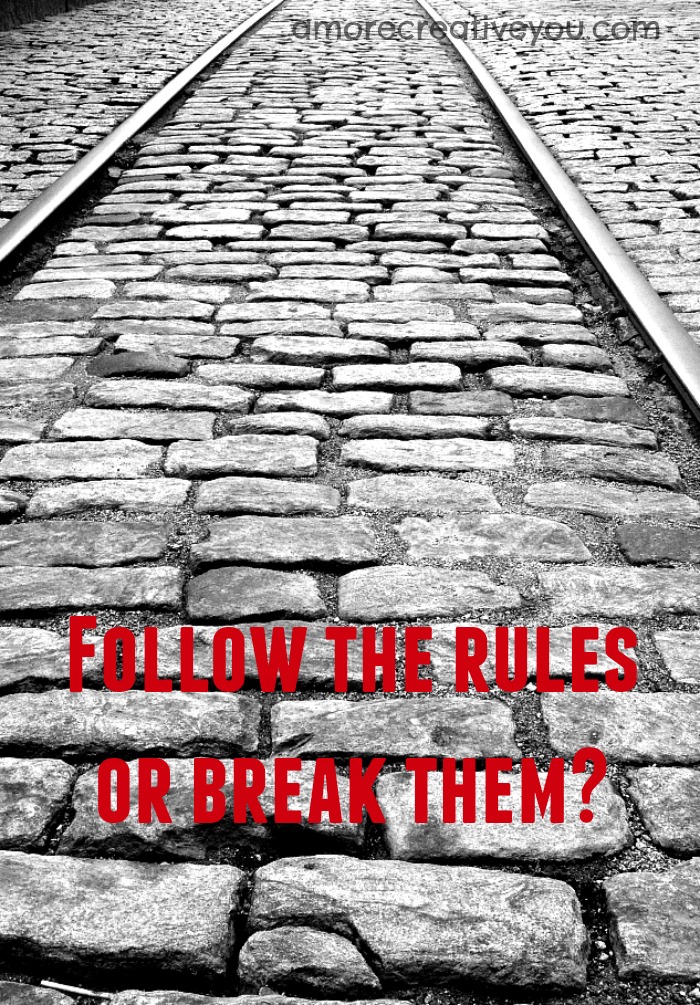 I'm a rule follower, but as a creative, my desire to follow the rules me gets in trouble. I get stuck when I try too hard to keep every rule. When rules become my measuring stick, I quit before I start because there are too many things to remember.
For example, when I learned to write, I needed to know all the rules. No passive voice. Eliminate most adverbs and adjectives. Show, don't tell. No head hopping. Check, check, check. Oh and then with photography, there's the rule of thirds. And with speaking: start with a personal story and make a connection or lose your audience. The list of rules goes on and on. These are just few examples and I didn't even cover general rules like obey the speed limit or pay your taxes.
Rules are everywhere. We can't avoid them and we are wise to follow them, but when it comes to our creativity, rules can stifle us and steal our joy. 
So now what?
Two things.
First, learn the rules because rules give us the confidence we need to take action. No one needs to stay stuck from not knowing the rules. Google whatever it is that you want to learn and watch a 5-10 minute tutorial every day. Get some free training and start applying it. And if you're ready for the next step, invest some money in some more extensive education. You will never regret getting an education, rules included.
Second, learn to break the rules. Take the rules you've learned and work with them in mind, but always consider the option of breaking them. Ask yourself, "What's missing?" "How can I make this my own?" Don't let the rules limit your creative flow. Try something new. Change things up. Give yourself the freedom to explore the possibilities.
Be fully you and fully creative regardless of the rules.
Because I believe the most prolific creatives have mastered both the rules and breaking them.
Might you be next?