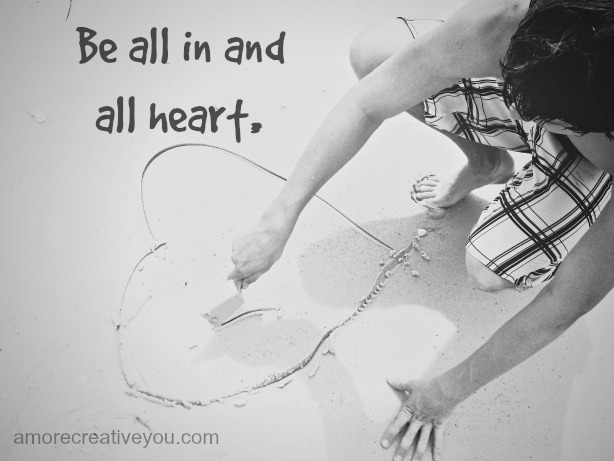 "Just do something." Classic advice for the creative who is stuck in procrastination. Or we hear, "take a class" or "find a critique group", but is it that easy? Is the answer to our creative slump as simple as get to work?
Personally I think something crucial is missing in this practical advice. So before you sign up for another class, buy a new gadget or declutter your work space, there's something important for you to consider.
Your heart.
Your messy, fearful, insecure, often confused, procrastinating, broken heart.
The world needs your heart to get into the creative process and show us what you've got.
To leave out your heart won't work. I mean really has it ever worked? Be honest. Truth is you'll never get anywhere closer to your dreams if you leave your heart out, actually you'll become more stuck in your procrastination. Imagine yourself digging a trench and never moving an inch one way or another. Soon that once narrow line becomes a deep hole, then a cave, and eventually your grave.
Is that what you want?
Me neither.
You want a real solution to make real progress. Right? I get that because I do too.
Well, then it's time to bring your heart to the work table. No more hiding behind busy. Yes, it's risky and you may get hurt. You will be judged by some and rejected by others. Some people will love your work and others will hate it. You will fail over and over again along the way, but so what, you will learn. And you will feel most alive. And you'll finally be using your God-given gift of creativity. And that my friend is worth the tears, frustrations, your resources, time and talent. Waiting until you feel ready isn't working. Neither is pretending you don't have a dream. It's there still, buried deep within your heart.
So will you bring your heart to work knowing that you may get hurt or feel rejected or even judged?
As creatives, we must live all heart, we have no choice. Because without heart, the world is left to wonder,"Is this all there is?" Have you ever read a book and thought geez I could have wrote that. Seems so generic, ordinary, even textbook like. Have you ever felt like the storyteller was holding back? Well that's an example of half-hearted work and that's not you, right?
You're braver than that.
So show up.
No more procrastination.
It's your time. No more excuses.
Be all in and all heart.
Q4U- What's stopping you from sharing your heart?