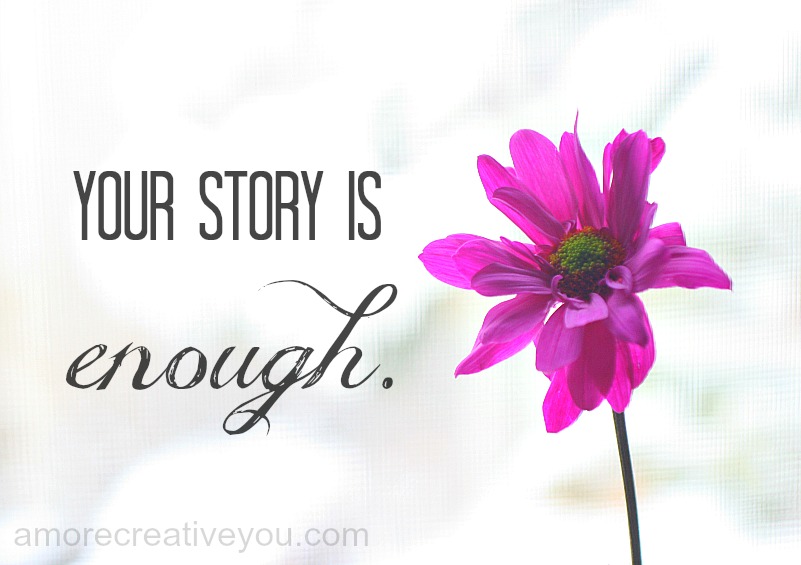 Have you ever wondered if your story is powerful enough to impact others?
If so, you're not alone. I remember a couple years ago when my teenage daughter told me how all of the speakers at the youth conference she just attended had such amazing stories. She added, "I don't have a story like that. I kind of wish I did." Her expression and tone of voice made it clear that her ordinary story wasn't good enough. Almost like if she had a better story, one of heartache and failure, she would have a life worth telling. Like the people who have a good life are the ones who've fallen into a pit, climbed out bloody and scarred, but are still alive and live to tell.
I get that.
Stories inspire us to live. Stories help heal us. They teach us about the depth, courage and resilience of the human spirit. Stories connect real people. Books and movies use the power of story. We are moved to change our own lives through story.
I'm no different.
But then there's the other side of a dramatic story, you disqualify yourself. You tell yourself you aren't good enough. You've made too many mistakes and haven't learned your lesson. You don't have enough education to be an effective leader. You don't have the right contacts or tribe. You're just ordinary, nothing special, and then add to this ordinariness, your dark past. Hello.
Who wants that? Shame anyone?
Anyone interested in another ordinary shade of grey?
Hmm, no.
We all have a story whether we thinks ours is great or not. I have a story just like you do. Some think my story is brave and redemptive. Others may see it as ordinary and boring, but that doesn't matter.
According to the average life expectancy for a woman, I'm more than halfway through my story. And the hard truth is I've spent the better half of my life trying to overcome my story. But I'm finally at a place where I'm done with a defeated mindset. Those chapters are finished, already written. I'm ready to do what I love with my whole heart regardless of who follows me or not. I know more today about who I really am than I did a year ago. I've worked hard with a therapist and my life coach to uncover the most authentic me and to get rid of the gunk and lies. And I'm relieved. I can actually breathe. No more internal pressure to be someone I'm not. Truth is I don't need people to accept me or believe what I believe. We are all unique. We all think differently and that's okay. I am who I am and I like me, as is. Praise God for progress and a new chapter.
I'm an imperfect, tender-hearted woman who is still learning. A girl who loves peace, music, birds, and her alone time. Someone who loves to create beautiful spaces, take photos, write, speak, and coach other women. And, yes, I have a shady backstory.
The point is our stories matter, whether they are ordinary, dark or inspirational. Our story is only thing we carry with us each day. Inside of our stories are life-changing memories which have formed our heart and shape our perspective. We are the sum of the life we've lived up to this point.
We are our life story, plain and simple.
A compilation of well worn pages with a bunch of crazy characters along for the ride.
Soiled chapters, blank pages, and revisions.
Wadded up deleted scenes.
Highlighted paragraphs, dog eared pages, memorable quotes.
Climatic scenes of life and death.
Love scenes, happily ever afters.
We are our life story. We are ever-changing stories. Our story is uniquely ours to have, to hold, to keep, to cherish. Our story is still being written and we are living them right now.
Don't discredit a well-lived story as boring one. And don't downplay your pain because that's what helps others find hope.
Your unique story makes a difference, the power and reward come with sharing it.
Go and tell.
And edit as needed.
P.S. Your story is already good enough. You are enough. As you are, with all of your life story.
______________________________________________________________
I'd love to hear from you.
Find Tiffany on Facebook: A More Creative You
Twitter: TiffanyStuart
Pinterest: Tea with Tiffany